STARTERS
Hearts of Lettuce (vegan)
Caesar Dressing | Rhubarb-Mole-Chutney | Focaccia Croûtons 11,00 €

Fried shrimp – piece + 3,50 €
Grilled avocado + 4,00 €
Burrata X Basil Sorbet
Pine Nuts | Arugula | Basil Sorbet | Tomato Salsa 13,50 €
Pink Boiled Fillet of Veal
Organic Egg | Radish | Grüne Sauce (local green sauce) 12,50 €

Colourful Asparagu-Beets-Bowl (vegan)
Colourful Beets | Soy Brittle | Vanilla Foam 10,50 €
Watermelon
Cucumber | Feta | Cashew | Sesame Oil | Chili | Mint
11,00 €
SOUPS
Asparagus Foam Soup
Sautéed Asparagus | Wild Garlic Oil | Basil 9,00 €
Potato Foam (vegan)
Caramelised Nuts | Fried Onions | Affilla Cress 11,50 €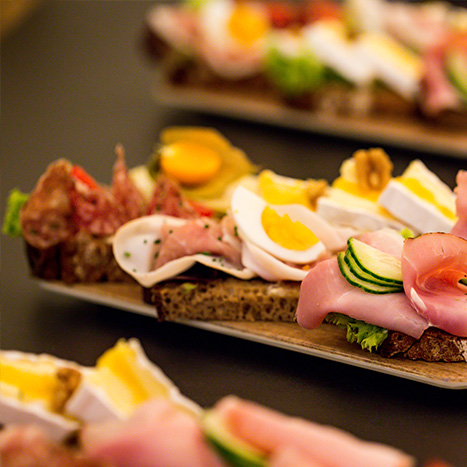 MAIN COURSES
Crispy Pork Belly
Grilled Peppers | Mashed Potatoes | Salsa Brava | Mojo Verde 23,50 €
Bunch of White Asparagus
New Potatoes | Sauce Hollandaise or Brown Butter 25,50 €
US Flank Steak +25,00 €
Wiener Schnitzel +11,00 €
Rosemary Ham +6,00 €
Roasted cauliflower (vegan)
Tabouleh | Pomegranate Kernels | Hummus 20,50 €
Homemade Pasta
White Asparagus | Black Tiger Prawns 24,00 €
Catch Of The Day
According to daily recommendation. We are happy to advise you!
US Flank Steak (vegan)
Grilled Vegetables | WildGarlicButter 32,50 €
Choose your sides with the Steak
Mini Ceasar | Amazing Fries | Mashed Potatoes | Green Asparagus | Roasted Cauliflower + 4,00 € each
The USA is the Steak-nation of the world. All others are measured by its meat. On the endless steppes and pastures of the Midwest, the vigorous herds of Angus and Hereford live in freedom, unimaginable by European standards and produce perfect meat.
THE SWEET FINALE
Crème Brûlée
Mojito Sorbet | Strawberries | Raspberry Krumkake 9,00 €
Organic Frisian-Blue Cheese
Rhubarb Ragout | Roasted Breadcrumbs
10,50 €
Hazelnut–Apricot Financier
Blackberry Parfait | Caramelised Hazelnuts
12,00 €
QUALITY COFFEE
by Julius Meinl since 1862
Café Americano € 2,90
Cappuccino € 3,60
Latte Macchiato € 3,90
Espresso singolo | doppio € 2,40 | € 3,90
Chocolat Chaud € 3,90
DIGESTIF
Averna Amaro Siciliano 4cl € 4,50
Autori della Grappa Nebbiolo 4cl € 7,50
Lantenhammer Mirabellenbrand 2cl € 8,00